Hey Guys,

The match has ended in 1-1 draw, but it was nothing short of controversies. The Anfield side has been accused of 2 things. Diving and racist slur. While the Manchester side were accused of playing negative tactic by leaving out Rooney and Nani and got away with a point.

The Racist Allegation
Suarez: Feel like going for a pizza after the match, mate?
Evra: Dont touch me, ok?
note: Pizza is a racist word in Planet Jupiter :P
Was it because Evra's English is really bad or perhaps Suarez, because he was just learning the language? Past stories about racist allegations
Evra was previously the subject of a later unfounded racism probe against Steve Finnan following a clash between Liverpool and United in a game at Old Trafford in February 2006.
He was banned for four matches for his part in fracas with Chelsea groundsman Sam Bethell at Stamford Bridge in March 2008, after which another dismissed racism claim was made.
TWICE! Twice this buggar tried to make racist allegation against opponents and now this is the 3rd time. WE MUST FIND MR. EVRA AN ENGLISH TUTOR AS A MATTER OF URGENCY. He's definitely speaking Frenlish at the moment. Example of words that can confuse Evra:
Papi = A handsome man Puppy = Dog
The Diving Accusation
Gerrard: So did you touched Adam or was he diving?
Ferdinand: No No No! I did touched him abit but I still think he was diving.
Gerrard: Ok Rio. Define diving.
Ferdinand: Damn it! Let me get my dictionary.
As usual, heated exchange of words has ensued with fans of both sides after an exciting match like this. Here are their views.
A friendly start at first......
"I really impressed with this Suarez guy, one-man show pawning 4 MU defenders"
ProbMan
"so far this is the greatest liverpool football for me this season... but de gea so super godlike today..."
Alan_kong84
With even praises for the Man Utd goalkeeper David De Gea from Liverpool Supporters
David De Gea
"Their goalkeeper had a very good game; that says a lot about our performance.."
weichieh007
"So many chances...damn it that de gea is BEYOND GODLIKE!"
SomaCruz89
"Props to De Gea though. Excellent saves."
bitebug
And I even throw in a joke at the Liverpool owners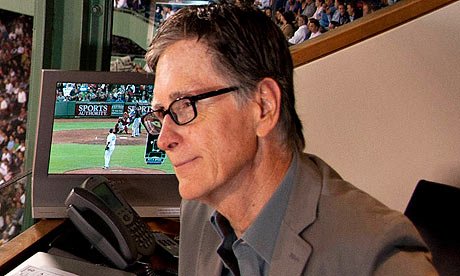 John Henry - Liverpool Owner
"It's not De Gea's heroic. It's FSG! They came, they saw, they jinx and we draw. Hehe. John Henry and Tom Werner, please stay at your hotel and watch the game next time, Sir. Please Sir. You are costing us the points. hehehehe."
dillonyong
Then this comment flares everything up
"LOL.seems like the jinx didnt go away.The hypocritical fans on the other side are accusing us of diving when they have an academy which produces divers and cry babies."
Rotuham
My reply
"It's normal. The sourgrape MU fans who instead should focus on their alarming negative tactic. They got away with the handball (Evans), they asked for a penalty when Nani raised his boot, they got away with a 2nd yellow card for Ferdinand, their captain Evra is the most unsporting footballer by moaning here and there and finally gotten himself a yellow card, that just sums up what United is all about. A team of cheaters. If Man City win the Premier League instead of us, I would be disappointed but I would still applause. If Chelsea win, i will still applause. If United win, I would spit to the very ground and feel disgusted."
dillonyong
And it became ugly (Partly I was responsible for it. For my comment of course)
"enrique oso got handball
lucas oso fouled ashley young once when on yellow
and as if luis suarez nvr complain here n there
i wonder u did not see that or u just choose to not see that"
tzxsean
"Why u even bother to look at our post?
I don't know what's your point to invade other's planet, but to sum it out, FXXX OFF."
LukeMJSTC
And became uglier
"average?which teams?our teams?average means half table teams"
Shamsul_LP
"Let's put things in perspective shall we? First off, we didn't claim to be the "real reds", it's you mancs that do. Like I pointed out in a post yesterday however, we first wore red in 1892 while you lot only did in 1902, duh!
Secondly, I agree with redshaun on the comment about there being many retards. Now, I'll gladly put my hand up if we had lost, I have always done so but last night we came out guns blazing in the 2nd half. There is no argument who played better but fairplay, you don't always win although you played the better game. Sometimes you need to grind out a result. If the situation were reversed, only a dumb f*** manc would agree that they didn't play better,"
Duke Red
AND BEHOLD - THE SUPER DUPER UGLY COMMENTS
"Man U Fans - Hating Liverpool more than They love Their Club...
MikeShashimi
"Same to Liverpool fans also hate united more then Supporting their club, else why call united scums ? Sports only, people kill ur family till you wanna call them scum ? Don't be hypocrite ... U all not deserve to be called best supporters ..."
clsiluf
"look at their ex-captain ...rio ferdinand and ryan giggs..one failed in drug test and one get caught for cheating his own brother ..yea yea , I am expecting someone to said our captain involved in bar punching someone"
leaF
FINALLY - Take it out for real?
Liverpool VS Man Utd Fans Wrestling Match. :)
"Oohhh someone insulted me on a personal level did he? Like to see him come out from behind the keyboard and do it face-to-face as any real man would. It's expected though. When you can't put up a decent argument, one usually resorts to insults out of desperation."
Duke Red
I burst out into laughter after reading all those. Anyway, don't worry. It's normal because THAT'S FOOTBALL. If both sides don't have disagreements, it will be so boring. I might as well watch birds flying in the sky than a football match.
Now, let's look at top 5 alleged divers in BPL
1) Luis Suarez (Liverpool)
The striker has been accused of making too much of challenges. Suarez, however, insists there is nothing sinister about his reaction to tackles.
2) Ashley Young (Manchester United)
Winger Ashley Young has revealed his hurt at being accused of being a "diver''. Young admits he has had that accusation thrown at him "on numerous occasions''.
3) Didier Drogba (Chelsea)
When prompted by the interviewer regarding allegations about his tendency to dive, he said: "Sometimes I dive, sometimes I stand," before immediately retracting his comment: "I don't dive, I play my game"
4) The Manchester City European Players
Bolton striker Kevin Davies slammed Manchester City's 'European' players for play-acting. "When there is not much contact and they go down screaming, it is embarrassing from a man's point of view," Davies told the Manchester Evening News.
5) Theo Walcott (Arsenal)
Arsenal player Theo Walcott admits to diving in a candid interview. He quipped "I'm not happy with myself for doing that"
Past famous divers
Who can forget the famous Mr. Ronaldo
and of course Mr. Robben
Look at that. Almost every team have been accused of having players that dive. And mind you, those are top class players. It depends on who you support, opinions can differ. I really like Drogba's picture :).
So are they smart or are they cheaters? Your verdict.....